NETIF PROJECTS
Nepal Tourism, Outdoor & Environment Development Project (NTOEDP) Phase II - Year 2013:

Following a full evaluation review; adopting the principles and methodologies as Phase I and learning from the lessons of previous activities, Phase II activities in 2013 have been the continuation to supervise and monitor the existing KVCTT communities, as well as mediating with different national and international boards and institutions.

Emphasis is being given to the continued work with tourism entrepreneurs (lodge & hoteliers, travel and trekking agencies, and restaurants) and communities to actively incorporate responsible tourism best practice guidelines with plans to further develop the following:
• Community and social Involvement,
• responsible tourism certification initiatives,
• capacity building training programs procurement policies,
• local business promotion,
• and assist in the start up of community lodges and home stay enterprises to empower sustainable community income generation.

The expected outputs of the project in 2013 are

1. Construction of micro infrastructure (tourist shelters, public toilets, route markings, route upgrading) along the trail.
2. Enhanced capacity of the local people in tourism and environment through trainings.
3. Product upgrading and promotion.
4. Improved networking and communication with other actors of tourism to enable better environment for better tourism.

The achievement made by project in the year 2013 is summarized below.

Highlights Concerning Output 1:

1. Construction of additional public toilets in Nagarkot and Sano Dhaap (Chisapani)
2. Construction of KVCTT gate in Dhulikhel in hazzar sidhi (1000 steps) stairways(under process)
3. development of small sized garden in Sundarijal entrance
4. Construction of community house in Chisapani
5. Development of Chisapani website (ongoing activity)
6. Incinerator constructed in Chisapani and incinerator is being constructed in Sundarijal Picnic spot(Under process)
7. Fund support and maintenance of Information Center in Sundarijal (Fund mobilization for furniture, electricity, toilet facilities etc.)
8. Tourism Office Development in Kakani ( Furniture support for Kakani Tourism Development community)
9. Installation of Information board and Signage in Kakani , Nagarkot and Dhulikhel
10. Support in Development of Tourism based Community centre in Panauti.
Photo: Tourist Information Board placed in Dhulikhel
Highlights Concerning Output 2:

1. NETIF organized advance training for mushroom production in Dhulikhel as one of the objectives of NETIF is to support the local communities and tourism entrepreneurs with training and awareness programs to increase local livelihoods and enhance the local environment. The advance training for the production of Button and Shiitake mushroom was provided by Women Entrepreneurs Association of Nepal (WEAN) from 16th-19th April, 2013


Photo: Trainer guiding the trainees on mushroom cultivation methods
2. NETIF and NNTDC organized a follow up handicraft training program in Nagarkot from 23rd April to 28th April. The training was provided by Women Entrepreneurs Association of Nepal (WEAN) with the aim to increase women's participation in economic enterprises through its various activities of integrated programs of Training. The Training was given to the disabled women group who had taken the basic handicraft training which was organized by NETIF in 2012.

3. Food and Hygiene Training organized by NETIF in Sundarijal from 25th-26th April and the training was given by Nepal Vocational Hospitality Services

4. Eco-club Training organized for TOT (Teach for Trainers) in Nagarkot and Sundarijal and the training was given by Rotaract

5. Eco club Program ongoing in different schools in SNNP and Nagarkot
6. Familarization trip was organized for the selective local people from Nagakot for enhanced capacity building for tourism development in Homestay program.The Fam trip was made to Ghale Gaun from 4th -6th April, 2013
7. Capacity building training organized in Shivapuri-Nagarjun National park.
Highlights Concerning Output 3:

1. On the occasion of World Water Day 2013, Nepal Environment & Tourism Initiative Foundation (NETIF) with the joint support of Global Peace Association Nepal (GPA) and Sundarijal Environment & Tourism Development Society (SETDS) organized a hiking event "Pristine Origins of the Bagmati River". The hiking program took place on16th March 2013, Saturday in Shivapuri Nagarjun National Park.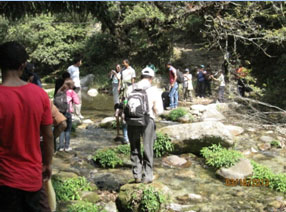 Photo: Hiking to Prinstine origin of Bagmati River in Sundarijal
2. Weekly Green desk Mobilization program as an initiation for environment conservation and waste control is being conducted by NETIF through Nepal Scout in Sundarijal every Saturday. They also interact with the local and visitors for awareness.
3. NETIF in association with SEAM Nepal organized Rhododendron and water way conservation hiking in Sundarijal-Milkharka- Chilaune route

Photo: Participant of Rhododendron hike event taking a picture of Rhododendron
4. On the occasion of "Asar Pandra" NETIF in association with Dhulikhel Rotary organized Rice planting event in Dhulikhel on 29th June, Saturday.
5. Familarization Hiking trip for Specification and colour marking on new various Hiking Trails in SNNP
6. Development and publication of Tourist hiking map of SNNP with Branding and Classification
7. Production of 500 NETIF Himalayan Panoramic posters and 1500 Nepali Brochures
8. Documentation of NETIF's project NTOEDP from 2008 to present
9. Development of Dhulikhel Picture Book to promote Dhulikhel tourism
10. Initiation on Development of Tourist information Centre in Dhulikhel
11. Regular Waste Management in KVCTT
12. Support in Panauti Festival
Highlights Concerning Output 4:

1. Visit to Langtang, Rasuwa for Assessment of upcoming new project of NETIF
2. NETIF initiation on implementation of Buffer zone management committee
3. NETIF initiation on implementation of Sundarijal Open Defecation Free(ODF) zone
4. NETIF's participation in National Tourism Fair 2013 from 15-17th February, 2013 in Dhangadi
5. NETIF's participation in Nepal Tourism Fair 2013 organized by Nepal Tourism Board (NTB) from 10-12th March, 2013